Directions
From Indianapolis and North
Take I-65 South towards Louisville
From Cincinnati and Northeast
Take I-71 South towards Louisville
From Lexington and East
Take I-64 West towards Louisville
From Nashville and South
Take I-65 North towards Louisville
From St. Louis and West
Take I 64 East towards Louisville

At Louisville, follow I-65 to St. Catherine West (Exit #135) following St. Catherine Street then turning left onto South Third Street. Follow South Third Street to the 3rd traffic light turning right on Magnolia Avenue and right again on South Fourth Street. Central Park Bed & Breakfast is in middle of block (1353) on the right side. You may park curbside in front of the inn.
Whether visiting the University of Louisville or Jefferson County, or simply electing to travel through the State of Kentucky, The Central Park Bed and Breakfast is conveniently located.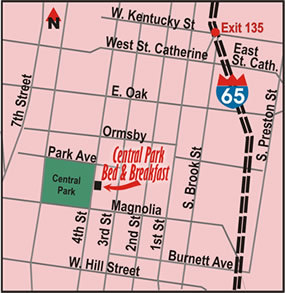 Central Park Bed and Breakfast
1353 South Fourth Street • Louisville, KY 40208